WINDOW CAULKING
Over the years, calfeutrage Apex has become the standard for professionalism and expertise in sealing condo buildings, commercial and residential properties on the south shore of Montreal. On this page, we are happy to shed a light and provide all the ins and outs of window caulking
Whether you want to learn how to apply window caulking or simply conduct research before hiring a caulking company, understanding the necessary steps to replace sealant joints is important to ensure that the work is done correctly.
Which important steps are essential to effectively caulk around windows?
---
Removing old window caulking.
The elimination of the old window caulk is important to ensure perfect adhesion between the new sealant, the window frame and the surface of the opening. It is not enough to simply remove the old caulk, it may require to apply a solvent to dissolve the remains of the old caulking.
Remove leftover stubborn caulking material with a knife or an electric knife:
 Some types of window caulking that belong to the thermoplastic family can be easily removed with pliers, while others require blades to slice through. The hardest types of latex or acrylic-based caulks may require to be heated up to soften the material enough to ease the removal process. To learn how to remove the old caulk from windows click here
After the removal of the old window caulk, the window surfaces must be cleaned and free of any dirt or impurities such as dust particles, oil, glue and dirt. Use a duster or air pressure to remove all the dust particles and wipe the window surfaces with a 99% rubbing alcohol or Methyl Hydrate right before the application of the new sealant.
Cleaning the surfaces with a Solvent:
Stronger solvents may be used to remove stains or dissolve the presence of leftover window caulking. Certain types of residual sealant that are incompatible with the new sealant may prevent a solid adhesion. The right solvent will help dissolve the old sealant off the surface. The wrong solvent may leave an oily non-stick surface or dissolve the paint off the surface intended to be caulked.
If this step is skipped or not done properly, air and water infiltration may occur.
If the gaps and cracks are 4mm (1/4 inch) or wider. The backer rod prevents the sealant from sinking into deeper gaps. The backer rod supports the new window caulk. It also allows the sealant to bond to only two solid surfaces instead of three. The backer rod being flexible will allow the material to move in only a single direction instead of two. This will reduce the likelihood of splitting because of excess stress while two surfaces contract in opposite directions.
Application of window caulking
An Application of high-quality window caulk should be done with a proper caulking gun and a nozzle that fits the width of the joints. The caulk gun should be held at a stable angle that allows the evenest application and sufficient surface area contact.
You don't want to simply fill in the gap between the two surfaces, you want the material to bond at a 45-degree angle along the window frame edge and the outer wall surface. The contact patch of the sealant must touch a large enough surface area of both the wall surface as well as the window frame to provide suitably  
Tooling the window caulking:
Tooling caulking/sealant joints is an important step that should not be neglected. Tooling airtight the window caulking joint and eliminates any air bubbles or tiny holes that may have formed alongside the joint during the caulking application. It levels down the seal bead and forces the sealant to enter into every crevasse.
When done by a professional, it can enhance the appearance of the joint and therefore the appearance of your window frames, by giving the sealant a smooth, straight flawless finish. Proper tooling is done with a tooling applicator- carved wooden stick and soapy water.
Cleaning the property to remove the caulking dirt, old window caulking joints that fell on the ground or the deck, is important because some caulking products can melt at hot temperatures and stain your deck, patio and garden.
---
THE IMPORTANCE OF WINDOW CAULKING
Window caulking prevents air, water and insects from intruding your home. Whether your home is relatively new or older, gaps between the window and its frames must always be sealed.
Over the years sealants wear out because of weather conditions, exposure to the sun and dirt. Exterior window caulking replacement is essential to continue protecting your home or building against air leakage, water infiltration and insect intrusion.
---
How do you know when to replace your window caulking?
A visual test – Walk around your property and inspect the window caulking joints: Are they intact? do they have holes, cracks, are some missing?
Damage control: Are you noticing water leaks around your windows? Excess moisture? Mould, fungi? It could be a sign of water infiltration through gaps around your windows and cracks or holes in the window caulking joints.
Feel: Are you feeling air drafts coming through your windows? It can be an indication of air infiltration through openings in the window caulk joints
Spider webs: Hydro Quebec recommends paying attention to spider webs around your windows, as spiders like warm dry places. Spiders around your windows can indicate that heat is escaping your home.
Does window caulking save on energy bills?
Window caulking prevents cold air from seeping into your home through the gaps between your window and window frame and the gaps between your window frame and your wall. During winter, if your window sealants are worn out or missing, cold air can infiltrate your home freely and account for 25% of your heat loss, thus, increasing your energy bills.
When to caulk windows?
Depending on the type of caulking chosen to replace your window caulking, silicone sealants can be applied all year round as long as it is applied on dry surfaces at a temperature higher than -20C and lower than 43C. The best seasons for caulking are spring, summer and fall. Organic-based sealants can't be applied below the freezing point.
Can window caulking be done in the winter?
Window caulking can be done in winter as long as the window surfaces are dry (no raindrops, snow or humidity are present). It is important to use silicone sealant for the project as silicone sealants can be applied in cold or freezing temperatures.
Where to Caulk Your Windows?
Window caulk has to be applied to the following places:
All joints around the window frame
Thermo joints along with the glass (if a replacement is needed)
Between different surfaces to prevent water infiltration
Between 2 expanding surfaces that require maintaining a waterproof seal and a level of flexibility
Never apply window caulking on the following elements:
While applying window caulking, inexperienced caulkers can seal openings in the envelope of your building that are meant to allow water to escape the building and air circulation. Sealing these openings can cause water damages to a structure.
Weep holes
A weep, hole, or weep-brick is a small opening that allows water to drain from within an assembly. Weeps are located at the bottom of the object to allow for drainage.
Weep holes are required in veneer masonry walls at the top of the foundation wall, below all window and door sills, at the top of all windows, doors and any other wall openings. Since weep holes allow water to evacuate a structure, they must not be sealed.
Weep holes may be found in many window and patio door frames allowing water trapped within the sliding rail frames to escape towards the outside. Blocking these weep holes will cause water to remain trapped or find a low point and exit towards the inside of the structure. Once frozen, the expansion of the ice can damage the surrounding areas where it is found, such as the sliding rail or the frame itself.
DON'T CAULK TRIMMED-OUT WINDOWS
Some recent homes have trimmed-out windows that are placed above the siding- this window type should never be caulked. There is no reason to seal the joints and sealing them can cause damage to your structure as the caulk will trap the moisture inside.
Movable parts of your window.
It is very important to pay attention to all the window parts. If you or your caulking professional seal moveable window parts, it will cause the window to remain sealed shut.
---
How to clean mould on window caulking joints or dirty caulk around windows
Nowadays, most silicone sealants can be easily cleaned. To remove mould from your window caulking, simply use rubbing alcohol on a microfiber cloth and wipe.
---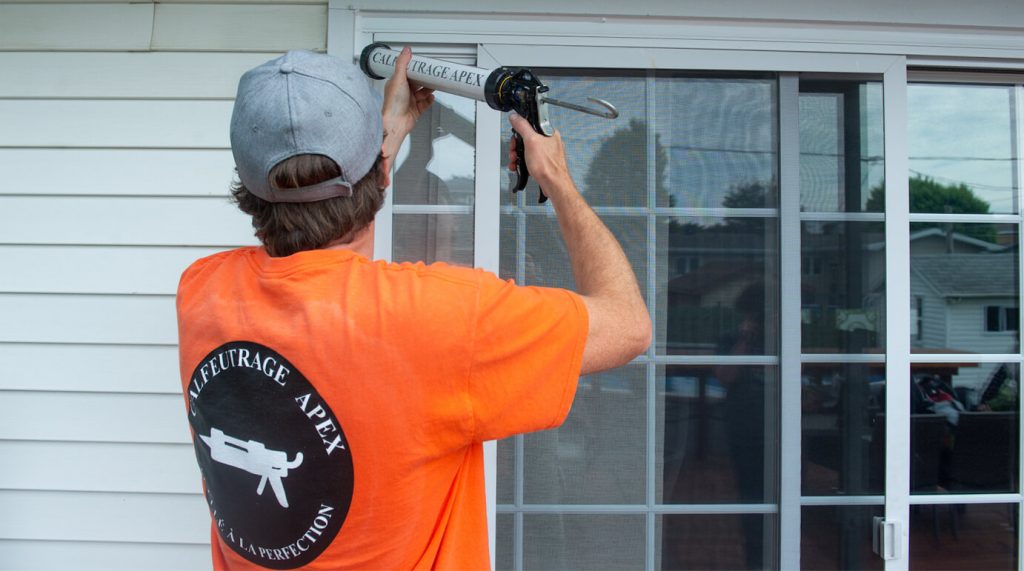 Window caulking contractors near me
Calfeutrage Apex offers elite caulking services on the south shore of Montreal. Led by Mr. Caulking himself, Mr. Jonathan Malone. Calfeutrage Apex provides a variety of caulking and sealing services for your windows, doors, siding and all surfaces on your residential, commercial or industrial building.
Our team members are professional, skilled and experienced in obtaining Quebec ccq cards and are covered by CENSST.
Here are our service areas for the door and window caulking