CAULKING THE EXPANSION JOINTS OF YOUR PROPERTY.
Whether for industrial expansion joints or residential expansion joints, investing in caulking your property means investing in the future of your property. Caulking is the number one defence against water and air infiltration.
By stopping air and water from entering into the expansion joints, caulking can help to prevent mould growth, material deterioration, and moisture issues within the expansion joint systems.
Calfeutrage Apex specializes in caulking expansion joints of commercial, residential and industrial buildings in the south shore of Montreal.
WHAT IS AN EXPANSION JOINT?
Expansion joints are assemblies that keep parts together. They are made to absorb the expansion and contraction that occurs due to temperature change. Expansion joints are installed between masonry walls and concrete slabs in buildings, bridges, railway tracks and sidewalks.
CAULKING OF BRICK WALL EXPANSION JOINT.
Whether concrete or brick masonry, it is very important that the sealants used within an expansion joint system are flexible and elastic.  Expansion joints allow structures to extract and contract; therefore, the sealant should be accommodating movement without cracking and rupturing at the same time.
WHICH SEALANTS ARE BEST FOR BRICK WALL EXPANSION JOINT?
The best options for brick wall expansion joint sealant are polyurethane and silicone. Both are extremely flexible and are ideal for securing your building from movement due to temperature change.
When compared, polyurethane caulk is considered a superior sealant as it adheres better than other sealants and is the most durable. Its main flaw is that it cracks under UV light. On the other hand, silicone sealant is flexible and performs very well in extremely cold or hot temperatures. Its elasticity allows it to expand and contract together with the building without cracking.
DO CONCRETE EXPANSION JOINTS NEED TO BE SEALED?
The short answer is: Yes, they do! Concrete is especially vulnerable to moisture and cracks. That's why caulking concrete expansion joints are crucial for the lifespan and survival of your structure. At Calfeutrage Apex, we only use the best sealants on the market.
---
THE CONCRETE CAULK WE USUALLY USE:
The concrete caulk we use provides maximum results with minimum room for error.
For sealing a concrete expansion joint, our team uses the following products to fill the joints:
Dowsil CCS contractors concrete sealant – A silicone sealant that ensures durability, flexibility and creates watertight seals. It is highly moisture-resistant and can be used on all types of masonry.
Adfast Im 4600 series – Made according to the highest standards, this sealant can be used on plastic, painted metals, masonry, glass, and anodized aluminum. It works perfectly for indoor and outdoor projects, but its best qualities are non-corrosive and high UV-resistance.
---
WINDOW SILLS ARE EXPANSION JOINTS TOO AND THEY SHOULD NOT BE NEGLECTED
Window sills are designed to support the window sash and to prevent water from entering your home. Without a properly insulated and protected window, your property will fall victim to water damage in no time.
The team at Calfeutrage Apex offers window sill caulking services. We extend your window's lifespan by using high-quality sealants to caulk your interior and exterior window sills.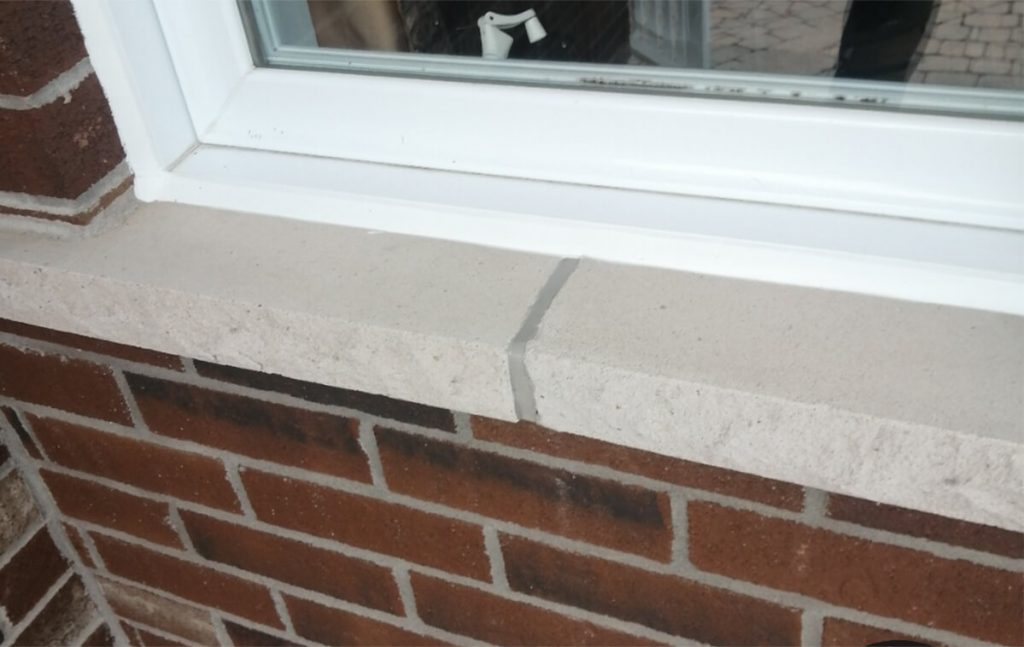 CALFEUTRAGE APEX IS A SOUTH SHORE CONTRACTOR THAT SPECIALIZES IN CAULKING EXPANSION JOINTS
If it's time for caulking the expansion joints of your residential, commercial or industrial building, feel free to call us or schedule a free non-obligatory quote on our website. Our team is at your disposition.
For a free quote: info@calfeutrageapex.com
Phone: 438-288-0338