CAULKING THE EXTERIOR SIDING AND CANEXEL SIDING.
Apex caulking is a caulking specialist with years of experience in the field. We offer a broad range of services, including caulking windows, doors, roof joints, and exterior sidings. Not many homeowners know that sealing gaps in sidings is equally essential as caulking windows and doors. So here is everything you need to know about caulking siding :
WHY DO WE HAVE TO SEAL THE GAPS IN SIDING?
Investing in caulking services means reducing your energy spendings and saving your home from future damages. Sealing the gaps in sidings fills holes, removes imperfections, and most importantly – prevents water and air infiltration. The team at Calfeutrage Apex has access to the best tools, materials, and artisans on the south shore of Montreal. Whether caulking around the window with vinyl siding or caulking between siding and brick, our quality caulking will close all points of entrance for outside air and water.
TYPES OF BUILDING EXTERIOR SIDING
There are many types of siding, and each material requires different caulking techniques and products. That's why it's best to contact experts before you decide whether to caulk your siding or not.
The contractors at our company will quickly evaluate your situation and provide the best solutions for your siding, whether it's made from cedar or metal.
The most popular materials are:
Vinyl
Aluminum
Fiber Cement
Cedar
Metal
Brick
Composite
Natural/Manufactured Wood
---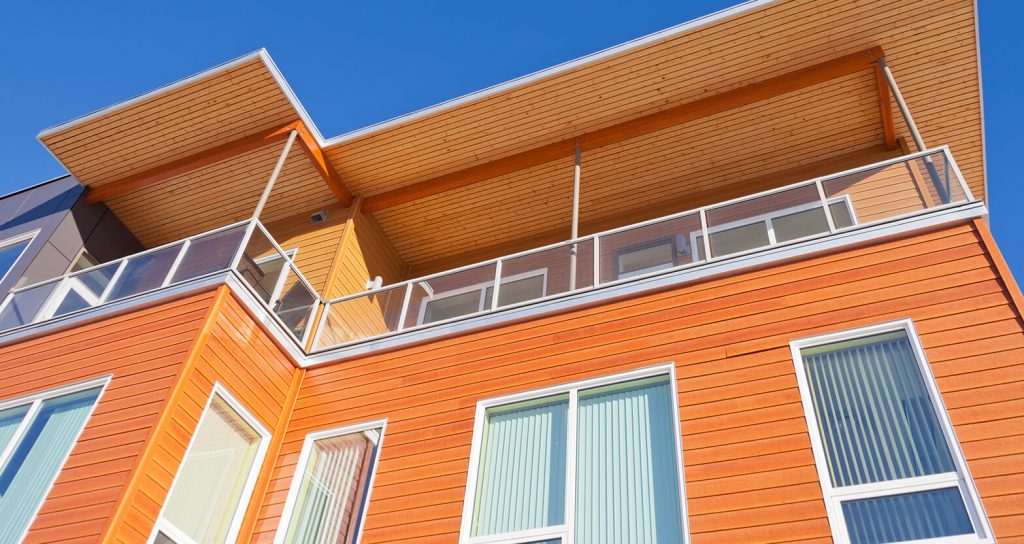 WHAT IS CANEXEL SIDING?
Canexel is a siding brand that is respected and known throughout the entire country. Canexel's products are the most popular among homeowners in Canada and are made according to the highest standards. The company uses innovative solutions to create durable and quality siding with a high visual appeal. Canexel has provided quality services for over 40 years, going above and beyond to develop sidings with authentic wood-grain looks for Canadian homes.
WHAT PARTS OF THE SIDING SHOULDN'T BE CAULKED?
Caulking siding corners, trim boards, wood windows, and damaged parts is a must! However, certain parts of the house should never be caulked, such as:
Trim boards over siding – In new homes, the gap between the siding and the trim board above allows water to exit the board if it gets stuck behind. This gap is also useful for preventing mold build-up as it allows air circulation.
Bottom siding board & Tongue and groove panels – These allow excess water to evacuate, therefore, they should never be caulked.
Siding nails & Garage door panels – Caulking is not meant for these parts of the exterior as they are designed to move and the caulk won't even stick properly, eventually falling off.
---
THE  BEST TYPE OF EXTERIOR CAULK FOR CANEXEL AND OTHER SIDING TYPES.
There are many types of caulk, but the best sealant for your Canexel siding is silicone caulk. Silicone is a durable, flexible material that is waterproof and provides a tight seal. Its flexibility makes it useful for construction because it expands and contracts with the building without cracking. Silicone is remaining flexible through temperature change and during exposure to UV light.
CALFEUTRAGE APEX HAS THE PERFECT CAULKING COLORS FOR YOUR SIDING AND CANEXEL SIDING.
Colour matching is essential for your home's curb appeal. Calfeutrage Apex services include exact color matching between the caulking and the color of your Canexel or exterior siding.
Our caulking inspector will document the color codes of your Canexel or exterior siding during our quote visit and find the perfect shade of silicone sealant to match the shade of your property materials.
At calfeutrage Apex, we strive to provide an excellent service combined with quality caulking, flawless application, and outstanding results that satisfy your every need and vision.